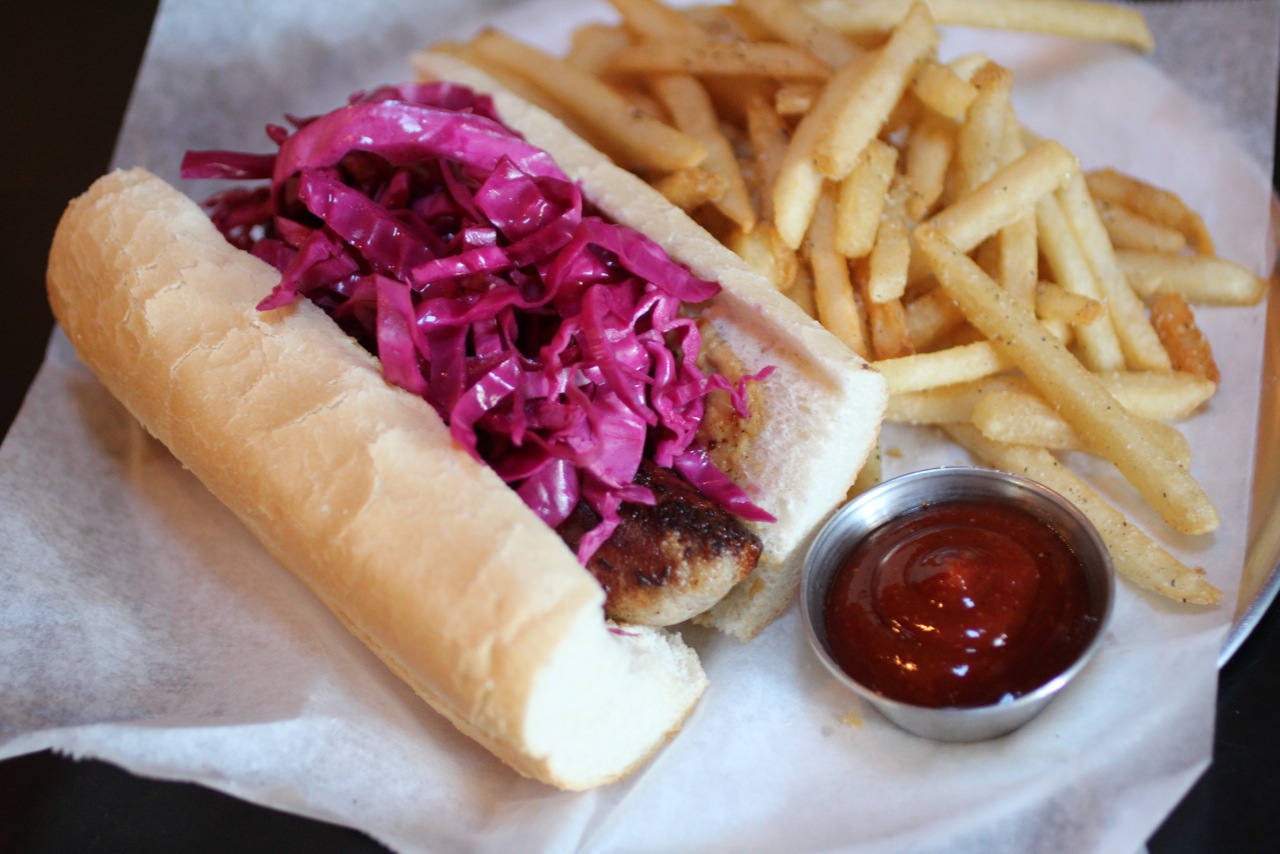 If you were to walk into Beer Belly right now, sit down with a glass of [insert name of one of BB's ever-rotating beers here], and look at the menu, you'd see a couple new additions. A Beer and Cheddar Brat and a Duck Sausage have just burst onto our repertoire, and we can't think of a more appropriate summer meal than a good sausage. But what you might not know is just why this dish is the perfect homage to the way BB owner Jimmy Han first connected with Chef Wes Lieberher.
Jimmy first became intrigued with Wes' cooking at the chef's former Hollywood shop, Grindhaus, where the homemade gourmet sausages were sold uncooked. Due to Jimmy's self-professed lack of grill skills, he became even more infatuated with the already prepared creations of exotic sausages and crazy sauces at the Grindhaus food truck, where Jimmy quickly became the foursquare mayor—an unsurprising fact for so many reasons. When Jimmy decided to open up Beer Belly, he approached Wes about carrying his sausages at the bar. With only a staff of line cooks and no head chef, Jimmy knew Wes' culinary prowess could add a unique component to his craft beer bar (who doesn't want a gourmet sausage with their IPA?), and the two began to collaborate on a special sausage exclusively for Beer Belly.
From there, the stars aligned. When the line cooks didn't show up for Jimmy's soft opening party, Jimmy found himself pushing his limited cooking skills in the kitchen to prepare food for sixty people. As fate would have it, Wes happened to drop by unannounced that day, and after questioning why the owner with no professional kitchen background was preparing the food, graciously offered his assistance for the event, and ultimately to helm the kitchen full-time. "For me that was a godsend," says Jimmy. "I knew his caliber and for me, I really liked his knowledge of flavors. Almost everything I had from Grindhaus was very nostalgic to me and it struck the right chord with my taste buds and my soul. So when Wes offered, it was a no-brainer."
And the rest is history. Since 2011, Jimmy and Wes have teamed up to combine a passion for craft beer with an appreciation for innovative and satisfying food. "Beer Belly is all about craft and Chef Wes personifies that with his continuous creativity. He creates new dishes as much as I rotate the new beers. He must have done 300 dishes in the 2 years we've been open. Sausages were just a throw back to our history together so it's only natural."
Duck Sausage - Stuffed with semi-sweet chocolate and dried cherries served over shiitake mushrooms and edamame with spicy mint coconut milk
Chef Wes utilizes his signature ingredient in yet another outstanding dish. If the Duck French Dip or Death By Duck have whet your appetite for anything that used to "quack," this is the sausage for you.
Beer and Cheese Brat - Stuffed with cheddar and rosemary served on an Amoroso roll with house-made beer onion mustard and house pickled red cabbage.
Chef Wes on creating the Beer and Cheese Brat: "I wanted to put as much beer in that dish as possible." (Clearly, he knows his clientele). Every component of the Brat is made in-house, except the roll, which he brings in from Amoroso in Philly. High standards = better Brat.